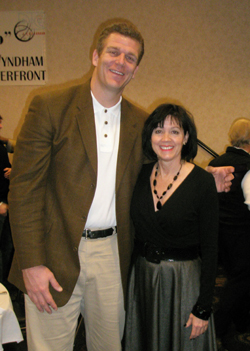 For the first time ever, all the number one seeds have made it to the final four. This phenomena has made all the chicks in our office winners in the pool.
If Memphis wins, Stephanie wins. If UCLA wins, Holly and I have to split the pot. I am glad to split the pot with Holly, because it alleviates some of my female guilt that would have come from being the boss and winning the whole pot.
It was really fun having the NCAA tournament in Little Rock. You don't realize how big those players are till you stand next to one. Recently at the Tip Off Club I had my picture made with big Joe Klien, formerly an Arkansas Razorback and a Chicago Bull.