I know, I know, I know, enough about the new sober Grady. I promise I will stop sharing his good news soon, because later this month I have some exciting news to share with everyone. I can't wait! Stay tuned.
About Grady, one more time:
For a man who reads but never posts on Facebook, I was curious (later shocked) when my husband kept asking me, on our anniversary day, "Have you seen Facebook today?"
Surprise Gift
The story began early that morning, when Grady asked, if I knew where the Hillcrest Magazine that featured our family was. After telling him yes, with directions on where to find it, I later saw him standing over the open magazine taking a photo and asking me how to edit it. He said he was changing his profile pic. Odd, since he never posts or shares anything, but I did not question.
By end of day, after about the 3rd or 4th time of him asking if I had seen Facebook yet, I logged on to find this heartfelt, premeditated post.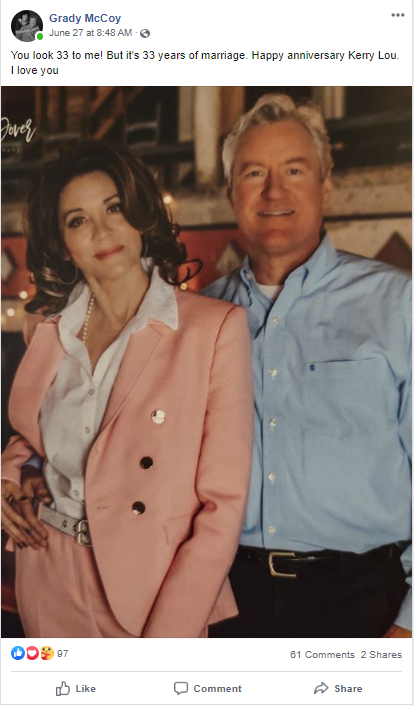 OMG! I was shocked. Who is this man? Just before giving Grady his due kiss, I said, "Who are you and what did you do with my husband?"
Mushy Stuff
Even though I am a weekly blogger of many years, who writes about everything, I still do not go for, and am often embarrassed by, reading the oft-too mushy stuff online. It was only a few weeks ago that I saw such a post and almost told Grady I was glad he did not expound about our love online. But now that I have been the subject of someone's adoration, I totally get it.
His post, a rare declaration of love (online or off), for all the world to see, was one of the best gifts I have ever received.
Thank you, baby.