My love of documentaries and biographies is starting to show up in my work. Three years ago, Arkansas Flag and Banner launched Brave Magazine to focus on the Brave stories of the people we do business with. Last year, I began the "Up in Your Business" radio show with the original premise to be about helping and encouraging entrepreneurs and want-to-be entrepreneurs.
Today the radio show has morphed into a mentoring show that is fueled by the human interest stories of my guests. The guests relive their career path. The ups, the downs, their feelings and their ambition that made them keep trying.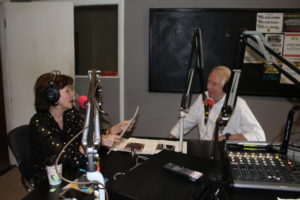 Most of the self-made people I interview didn't know, when they were young, what they wanted to be when they grew up. Some even graduated from college with degrees in fields of study they never used. It's encouraging for all of us to hear that no one is exempt from the trials of life, and reminds you it is the strife that brings growth. It's also nice for young people who think they need to have life all figured out, to hear that the majority of persons floundered in their 20's. Many work odd jobs until seeing an opportunity that propels them towards a career they never could have imagined. The inspiration here is to keep working and trying new things.
These varied jobs and experiences make them good bosses. These entrepreneurs talk about their employees as if they were family.  They remember what it was like to be an employee for both good and bad bosses. Though they all call themselves lucky, we know deep down it is their persistence and hard work that created their opportunity. And that it was their bravery and ambition that moved them to take a leap of faith and seize on their moment.
Each week I learn something from my guest. For instance:
Laura Stanley said, clean your jewelry with ½ Mr. Clean and ½ water. She also informed me about the story of the Espadrille Diamond found in Arkansas
Barry Corkern said, never finance the sale of your business. If a bank won't loan your buyer money, then you shouldn't either.
Ryan Herget gave the tip of using USPS "Every Door Direct" for affordable bulk mailing.
Don Dugan said a restauranteur should know how to do every part of the business, from running the dishwasher to reading your monthly financials.
Al Hodge thinks making a business plan is a good exercise, even if you're not getting a bank loan.
Matt McLeod followed his heart and his art, reminding us to trust in ourselves.
Alan Engstrom thinks outsourcing your book keeping is cheaper than doing it in house.
Sara Slimp says the state of Arkansas is a helpful resource for paying your taxes and staying lawful when first starting a business.
Paula Dempsey gave tips on staying healthy through diet.
Larry Graham taught me Arkansas Art history about the famous Brewer family.
Alan Leveritt thinks this is a wonderful time to be a journalist because the internet gives a voice to everyone.
Jean Paul Francoeur told of us alternative pain management, ARP Wave.
Father Fred Ball explained Holy Week right before Easter Sunday.
Joe Calhoun taught us the difference between patents, trademarks, and registration and what was eligible.
We talked to the producers of the Dreamland documentary and learned what it took to get a documentary made.
The Swink's were film makers turned music producers; we debuted the Wildflower Revue's CD before its release date and learned how they accidentally became music producers.
Sheridan White Rock in Pine Bluff explained rock quarry business and opportunities and the challenges of a multi-generation family business.
Georgia from Our House inspired us with her stories of homelessness and redemption.
Congressman French Hill told his family history. We learned that his family was among the early settlers of Arkansas.
Denise Rivkees and Sally Simpson taught us the difference between Homeopathy and Naturopathy.
DeAnna Korte and Stephen Bentley taught us how to become Riverfest volunteers and shared a shocking behind the scenes episode from the event's past.
David Rosen talked about how music education helps children in other educational endeavors.
Corey Boelkens talked about how to start and market a phone App.
RJ Martino from IProv said putting up a website without advertising is like putting up a billboard in the middle of a desert.
Entertainer Ryk St Vincent, entertained us with his anecdotes and on-air voice imitations…old man Otis kept making an appearance.
Debra Finney from the EEOC gave us this advice on human resource issues: document everything. Even amateur documentation on a note pad with date and violation is better than nothing.
Jack Sundell from the Root Café got his inspiration from traveling with Americorp and Heifer International farm to table program and talked about grant and other funding opportunities for sustainable businesses.
A young man, Maxi Dominguez shared how he started a successful online clothing store, Raiz Apparel while still in college.
Sisters and co-owners of At The Corner restaurant talked about starting and running a family business and the challenges of working with family.
Wade Rathke, founder of ACORN International, shared his community activist story and gave hope to myself and my listeners.
Rich Cosgrove of Whole Hog café, talked about smoking meat and gave excellent leadership advice.
When you ask a bright-eyed octogenarian what's their secret for being a healthy senior citizen, they'll say never quit learning. Good, I think me and my listeners are on a long and healthy life course.
I hope you'll tune in Friday afternoons to KABF 88.3 FM at 2 p.m. or will visit www.upyourbusiness.org to listen to past shows in podcast format.