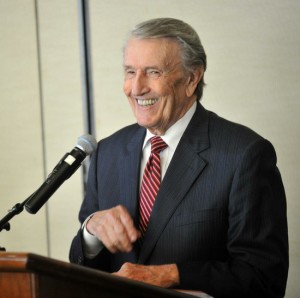 An awesome Arkansan died this year, Dale Bumpers. After his death I watched his biography on AETN and realized how privileged I was to have met this man. He was  an inspiration and inspirational people make you want to be a better person. Bumpers didn't grow up privileged but was smart, hardworking, ambitious, and ethical.
Neither did he know he was making history. He was just trying to do the best he could.
Dale Leon Bumpers (August 12, 1925 – January 1, 2016) was an American politician who served as the 38th Governor of Arkansas (1971–1975) and in the United States Senate (1975–1999). In 1970 from nowhere arose the unknown attorney, Dale Bumpers, a candidate for the Governorship of Arkansas. While campaigning for Governor he championed a new idea "The Environment". Having been a self-proclaimed country boy, he understood the issues of rural America. Thus, bringing health care, responsible farming and clean water to outlaying Arkansans. As a US Senator, his work continued on agriculture improvements and his legacy lives on in the Bumpers College at the University of Arkansas.
He was a life-long customer of Flag and Banner.