You know, mothers know everything. Early on, I knew -and my mother knew- my first born, cherub-like son was probably gay.
A Special Child
He was a gift. The calmest baby I have ever known. At the time, I chalked it up to him weighing almost 10 pounds at birth; but his amiable disposition never changed. As a toddler, he never cried or complained. He was focused and content with any toy in any situation. When he did cry, he apologized for crying. An old soul, some called him.
If he had been my only child, I would have thought I was the perfect mother.
At peewee soccer games he happily skipped down the field. As he grew, boys became unkind, so he played with the girls at recess. I visited his school in the 6th grade and a teacher told me how much he liked Gray and about some incidents at lunch that broke my heart to hear, then made me mad. At home, son Gray never mentioned the stolen lunches or meanness. When I asked him about what the teacher had told me, he defended the boys for just being boys.
Lucky for Gray he had an older sister that adored him. In addition, he also had two younger brothers for him to play with. They were a close-knit trio brought closer together when, in 2002, at the age of 14, after years of ribbing from his classmates, Gray, frustrated and in an unusual outburst, confirmed his sexual identity by saying to the harasser, "So what if I am gay?!"
This declaration silenced the class, sent Gray to the principal's office, and brought everything in Gray's life and our family's life to a screeching halt and reset. We knew this day would come, but it seemed too soon. We were not readily equipped for what might lay ahead. We were all afraid and in uncharted waters.
Family that Sticks Together is Stronger Together
As a coping mechanism, I feverishly began painting the living room a new color, while mindlessly trying to work out the new family dynamic. Husband Grady went to the woods to think. Son Gray looked worried. And Matt, Gray's younger, dyslexic brother, was now being accused of being gay by association as rumors flew among his schoolmates. He lost some male friends.
Our family bonded together tighter than ever in the safe place of our home, as we encircled with love and acceptance around the nicest person any one of us had ever known: Gray.
As Grandmother Hazel, used to say, "If you put all your problems in a basket and set them in the middle of a table to possibly choose another, you would pick up the same basket of problems you set down, every time."
Not that any of us have those choices, but it is sometimes comforting to think about. So, with Grandma's wisdom in mind I posed the question to son Gray, "Would he rather be gay or dyslexic like your brother Matt?" Oh, gay, he said unequivocally; he loved to read. And I ask the same of his brother Matt, if he would rather be dyslexic or gay like his brother. Again, "Oh, dyslexic without a doubt" he responded because he really liked girls. And my youngest son, Jack, needed no such clarity because he can't really remember a time when things were ever different. Acceptance began to take form and our worries began to dissipate.
Through all this, our family grew. Our world view broadened. Our love for each other deepened. We became better people. The issues that we perceived as shortcomings -being gay, dyslexic, whatever- were not issues at all. The things that differentiate us are platforms to stand on. There is strength in being authentic. The lesson in it all is, "We are all made perfectly. Be yourself, love yourself, and things will work out, rightly."
All Grown Up
I say all this because last week, our family again encircled son Gray with love and acceptance as he married his long-time partner Drew as they were blessed by a female Episcopal priest on the Little Rock courthouse steps.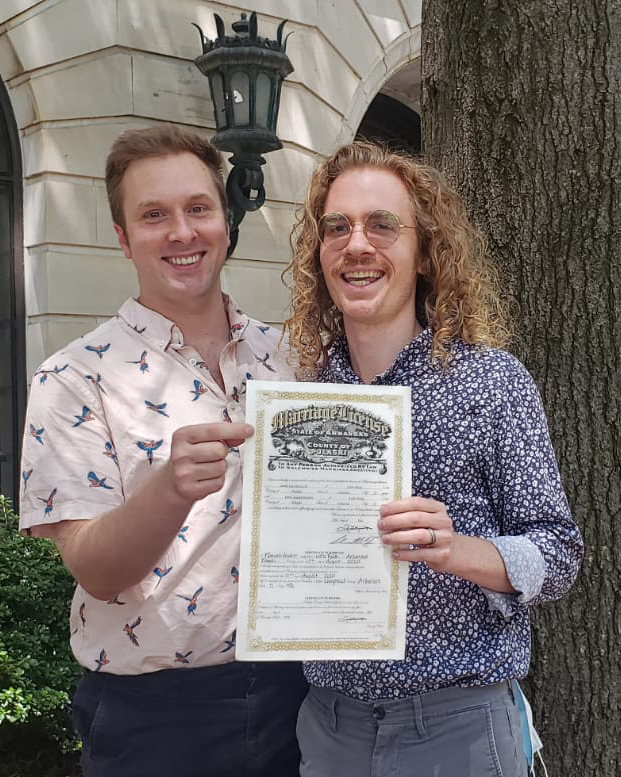 A few years ago, the couple had talked about driving out to California and getting married, but Gray jokingly scoffed it off saying, "No way, Mom, we're two young dudes. That's for old queens and lesbians." We're a funny family that takes every opportunity to laugh about ourselves.
But that was then, and this is now. Those two dudes have since bought a house and are beginning to build trust, wealth, and security. Now in their 30's, they realize there is more to marriage than just words. There are the benefits that come from building a life together that is recognized by all, even the legal system.
Congratulations kids! You are both contributing citizens to America and are a part of what makes America great. You have worked hard, stayed true to your ethos, and are living the American dream that you so deserve. I am happy for you. As your mother, I know that I am forever thankful you were born at this time in our country's history.
I love you –MOM.