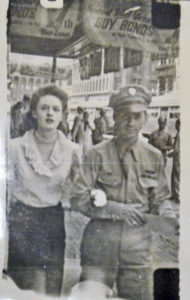 My mother, Sara Krouse, passed away this week at the age of 94. She was a smart woman, my mentor, who played a pivotal role in the founding and naming of Arkansas Flag and Banner. She was born during an era when sacrifice was part of life and a badge of honor. My father, Edwin Krouse, was a WWII vet and purple heart recipient, who was shot down over Germany and remained a POW for 2 years before the war ended and he was reunited with my mom. Though they had to get reacquainted, their marriage lasted for 62 years.
I want to share what I learned in the last 6 weeks, as mother lived and died, in a hospital bed, in my den. For all you baby boomers who are dealing with aging parents, I hope you will find this information comforting.  I can tell you the experience was not what I feared or expected.
Mother was residing at Woodland Heights, an upscale, assisted living facility, in Little Rock, AR, when her health took a turn for the worse. We found Woodland Heights care to be subpar. It's easy for me recognize poor management and poor processes. There was lots of excuse making, lots of employee turnover and an un-cooperative nursing staff, to say the least.
My anxieties and sleeplessness grew as I felt more and more helpless. Husband, Grady McCoy, who… we'll now refer to as Saint Grady, suggested bringing her home to our house. This sounds like a bad dream come true: seeing your mother nude, wiping your mother's mouth and (the dreaded) changing your mother's diaper. But for some reason, when St. Grady suggested it, along with the dread, came a sense of peace, too. On Dec. 31st, 2017, New Year's Eve, with the help of Arkansas Hospice, we moved mom into our den.
First of all, my mother's hands, face and feet looked old, but her body, I guess shielded from wind and weather, was beautiful. I had no idea women's bodies are beautiful until the day they die. And changing her diaper was no more than changing a baby's diaper.
All the end-of-life fears I had harbored in the back of mind, for 10 years, were unwarranted. And that is the gift I would like to give to my readers.  As your parents age, try not to worry about the end of life episode, it may not be what you're thinking.
Because I was lucky enough to be able to afford a care giver, I went to work during the day, but in the evening, it was just me and St. Grady caring for my mother.
It was very much akin to taking care of a baby.  As the saying goes, "Once a man, twice a child." Those that are dying come to you in a quiet way, and as they progress, so do you. It is a learning process, that for us, came in manageable bite sizes. We attended her and watched as each day she stepped a little more out of this world and into the next. That final step, is just that…a final step. We were ready because we had witnessed the journey. It was a peaceful transition. Godspeed Mother.
To hear this touching account from Kerry, click here. She shared her experience and feelings live on her radio show Up In Your Business with Kerry McCoy the day after her mother passed away. It was broadcast on our Facebook Live feed.