In the words of Etta James, "At Laaast…" we have started construction on the elevator addition for the Dreamland Ballroom, atop the Taborian Hall aka the third floor of the FlagandBanner.com building.
It was March of 2018 that son Matt and I received the phone call from the National Parks Service informing us that we had been awarded a nearly half-a-million dollar Civil Rights Grant to make Dreamland Ballroom ADA accessible. A coup for our city of Little Rock.
Excitedly-and a little naively-we began the process of completing our preliminary architectural and engineering plans. Next, construction bids were submitted and changes to scope of work were finalized. This is when the naivety came in to play. I had no idea how hard it would be to coordinate the moving of buried utilities. There is the water department, gas department, Entergy, Comcast, AT&T, Southwestern Bell, plus our own network fibers and fire sprinkler system. All these companies are, for the most part, monopolies.
Construction Hang-Ups
Upon opening a "move of service" ticket with Entergy, we were given a one-month lead time. Comcast was even worse. Their "move of service" lead time was 2 weeks to 3 months! Can you image doing business like that?! And, if the lead time is not frustrating enough, when they finally do come out, the finger pointing begins. Comcast says things like, "Oh, that's not our line, that line belongs to AT&T," and AT&T says things like, "Oh that line belongs to Southwestern Bell." All of which starts another "move of service" ticket and countless hours, on hold, while I beg for expediency.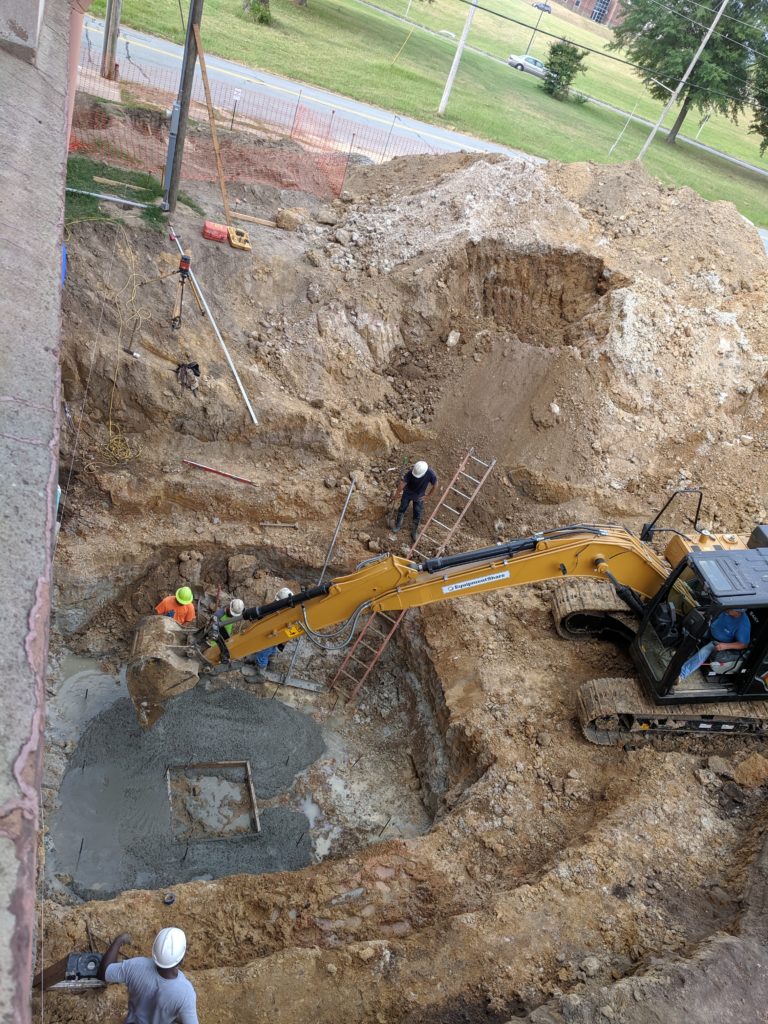 Finally, after 3 months of coercing, we were ready to dig. And dig we did! Check out that 20 ft. hole.
Digging an Elevator Shaft, or Digging a Well?
Our contractor, Manly Roberts of AMR Construction, told me to bar the back-exit door and he'd rope off the outside area. He also said something I've never heard or thought of before. He said in his southern drawl, "Kerry, we'll put a ladder down in the hole but, in the meantime, don't let any of your people fall in because you can't climb out of a hole like this. If someone falls in, they will spend the night down there until someone, at last, finds them the next morning." Really? Weird. I guess there's nothing to grab onto and the dirt just gives way as you try to climb out.
I also learned about ground water and watched as we dug deeper and found the level of downtown Little Rock's water table. As we predicted, because of Little Rock being close to the river, we hit a rill (a small spring). If it'd been bigger, I'd have tapped it with a spigot.
For the following week, we prayed for dry weather as we pumped out ground water and poured concrete.
It's exciting! My staff loves to watch and take pictures of the construction. Often, during the day, the construction workers will glance up to see our faces hanging out the above windows as we watch in awe at their progress and admire their construction knowledge, brute strength and tenacity. Now that AMR Contractors have the reins, "At Laaast…", things are moving right along.