ObamaCare helps small business – no really it does!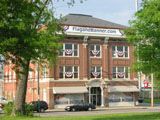 I am not trying to take a position. I just want to share my experience, to date. I think we are all starved for information from real life experiences and not political wrangling when it comes to the Patient Protection and Affordable Care Act or "ObamaCare." When I say "ObamaCare helps small business", I'm talking about *my* small business.
It seems Arkansas Governor Mike Beebe, did his ObamaCare due-diligence; through his leadership, Arkansas is one of the states that opted for a combination of both Federal and State aid.  What does this mean?  Yesterday we found out.
Our healthcare provider, Robbi Davis Insurance, learned and embraced the new changes.  For no fee, her agency introduced the healthcare plan to the employees of Arkansas' Flag and Banner -no fear mongering, no political platform, just the facts.  After a group presentation with an overview of the coverage and options, each of her insurance agents met privately with each of my employees to discuss their options and waylay their fears.
Outcome: most received better coverage for less, a few were mandated to their spouses insurance and one was grandfathered in and stayed on her existing policy for another year.
Arkansas FlagandBanner.com has provided group insurance for its employees for years.  Because of our aging work force and the rising costs of healthcare, coupled with the consumer's desire for low price shopping, AFB's profit margin has declined forcing us to make tough decisions which included this being the last year we can help our employees with their health insurance. This in turn means ObamaCare helps small business like my own by helping my employees retain health insurance we were going to drop to cover rising expenses and the damage the recession has done.
For us, ObamaCare has provided a win-win solution for our small business in trying to do the right thing for our employees.  Another befit we did not realize until our meeting, was there is no longer a distinction between the part-time and full-time healthcare rules as in the past, I see this new law as an aid to improving the hiring process and work force of America.
Kerry McCoy is founder and president of FlagandBanner.com and owner of historic Taborian Hall where the famous Dreamland Ballroom resides. She is also publisher of Brave Magazine. If you would like to interview Kerry or have her speak at your event contact tammie@flagandbanner.com.