May
5

Teachable moments: Wisdom is non-transferrable
I rarely watched TV as a young adult. That is not to say the TV wasn't on; I just wasn't watching. Part of the evolution of life is becoming a TV watcher, especially a watcher of news, history and biographies (hence the birth of Brave Magazine). These lead us to teachable moments throughout our lives.
The other night, I was watching CBS reporter Serena Altschul's  Interview with Christopher Cross, the 1980's pop singer and tenor who won five Grammy Awards and an Oscar for writing and singing the theme song to the movie Arthur with Dudley Moore and Liza Minnelli.  Like so many people, I thought he was dead (an urban legend) and when I found out he wasn't, I was thrilled and wanted to know where he had been.  It turns out, nowhere – he is still making music. Read more
Flag and Banner
Home
Apr
14
There really is a right way to quit your job
It's that time of year when new ideas "spring" into everyone's head, signaling the rebirth of the planet and oneself. One of those new ideas might be to quit your job. If so, here are some recommendations on the right way to quit your job.
I don't believe in ever burning bridges, especially when it comes to your work. Everyone's career is made up of building blocks of acquaintances and accomplishments. Don't underestimate the power of networking.
Quitting the right way enables you to utilize the relationships you have developed. So let's get started. Read more
Flag and Banner
Home
Apr
6
Since 2006, U.S. state legislatures have been introducing laws that require the purchase of American flags made 100% in the United States of America.
It's believed that about $3.6 million dollars worth of American flags are imported every year, $3.3 million coming from China.
On the federal level the Department of Defense and the federal government began requiring U.S. made flags to fly at all military and federal government buildings. These two entities alone will keep millions of dollars in the U.S. economy.
Read more about the All American Flag Acts on the Arkansas FlagandBanner.com Press Center.
Flag and Banner
Home
Feb
4
My comrade and senior employee, Charles Fisher, retired this week.  We had a great party for him.  We kept it light and funny because that is how he rolls "literally."  We put him in a wheel chair and rolled him to the honoree position for a full-on roasting ceremony. After 25 years, we had a lot to say. Many of AFB's former employees came to his celebration and made the day even larger and fuller. Thank you to all of them.
Now all I do is think about him and what his retirement means to me. It's mostly vane stuff like how it moves me up a notch to senior citizen status at AFB, as I am now the second -oldest staff member. And with whom can I talk, since he was my number one confidant for employee and business issues? And my gosh, the man is funny. Who will make me laugh now?
There is also a flood of memories that make me tear up every time I try to expound on them at company meetings or his roast.  So I have saved my sentimental thoughts for this blog, where I can tear up in private.
We all have people in our life that leave a profound impact on us.  Some of them are glaring warnings of what NOT to be and others are shining examples of HOW to be. Charles Fisher has been the latter to me.  Many of the things I learned from him were related to business, like inventory control, streamline shipping, expedite invoicing, manage employees and lead by example.
When Charles had his first heart attack while still in his 50's, I selfishly thought, "What am I going to do without him?"  I was in my late 30's and had yet to earn respect from my colleagues or hone my management skills.  I saw him every day and often had to ask his advice.  What Charles did after his heart attack taught me what it meant to lead by example.
Charles could have easily retired right then and there, in his late 50s.  He had a big pension from his career job as Safeway store manager. If he coupled that with disability and his military service " boom, early retirement."  But instead he did what the doctor told him to do: exercise, lose weight and stop drinking.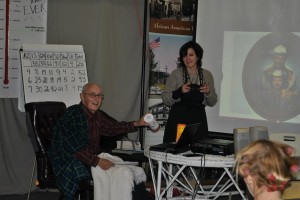 I've never really understood the old adage, "You've got to love yourself before anybody else will."  What does that even mean?  Well this is what it means:
Charles cared enough for his wife Joyce, his coworkers and AFB to take care of himself.  Even though the doctor gave him a six-week pass from work, he began his slow comeback after only four weeks.  He started walking two miles each day, quit drinking and trimmed his weight to the doctor's recommendation. By loving himself, he showed that he loved us too.
We are gonna miss you, ole goat.
Flag and Banner
Home
Jan
9
Romancing the Blog: I have a love-hate relationship with blogs.
Let's start with the HATE: Anybody can write a baseless rant and start a cyber frenzy that could cause serious harm to other people.  This is a serious problem because human nature makes us gravitate to news stories, movies, and, yes, blogs that are shocking or tragic.
Now for LOVE: Blogs are the modern version of the 1700's pamphlets that Ben Franklin and other visionaries used to call for change and shape our country.  Thomas Payne, one of the most famous pamphleteers, championed individual rights and challenged corruption in the government and church by writing his views on a single piece of paper and hand-distributing them to the people of Philadelphia.  The people would then write their views and comments on the back and continue passing it along.  Good penmanship was important.
Thomas Payne is best known for the book he fervently wrote in six weeks, Common Sense. It was a huge success wrought with unforgettable quotes like "Society is produced by our wants, and government by our wickedness." Three-hundred years later, this still rings true.  He also penned a quote we should remember for this New Year: "We have it in our power to begin the world over again. The birthday of a new world is at hand."
We don't have to change the world this year " that task would overwhelm most of us" but we can change our world– small changes produce BIG results! You don't need to quit your job or move out of your home. Instead, start a new task at work or rearrange your house. You will be surprised at how small changes snowball to create even BIGGER results.
My small change this year: commit to romancing the blog by writing in my blog more often. It is sort of a minor New Year's Resolution I suppose. Thankfully I have staff that will remind me to write something and even ask me to write on certain topics they know I am knowledgeable about.
Romancing the Blog –  was written by Kerry McCoy founder and president of FlagandBanner.com and publisher of Brave Magazine. Kerry has been in the flag business for more than 40 years. If you would like Kerry for an interview or to speak at your event, please contact tammie@flagandbanner.com with details. 
Flag and Banner
Home
Nov
24
Dreamland Ballroom – Both Love and a Struggle
It has been 5 years since I started FOD, Friends of Dreamland Ballroom, and like so many people who launch a start-up say, "If I had known then what I know today, I probably wouldn't have started it."  Well, I am no different.
This is not because it is a bad idea, but rather because it is soooooo much work.  I had no idea that each year a quarter of my life would be devoted to raising funds, and fundraising for a non-profit that does not feed the hungry, save pitiful pets, or help children, is hard.  My passion is old buildings. I love the old craftsmanship, the history, and stories that go with old buildings.  For instance, the chipping plaster on the walls in Dreamland is made from pig and horse hairs. IKR!  Isn't that cool? When a chunk falls off the wall, you can pick it up and see the hairs sticking out that are binding it together.  Today they would use fiberglass. And don't get your tape measure out, because nothing is symmetrical.  One window may be 70 inches wide and the window right next to it may be 80 inches.  No prefab products in 1916.
The accomplishments of FOD and the restoration of Dreamland Ballroom have been successful.  After 5 years we have:
Secured the floor of Dreamland (that is 8000 sq ft of flooring) $60k
Secured and updated the boxes, $25k
Secured and updated the balcony, $8k
Installed 2 restrooms, $10k
Installed a server area, 2k
Wired the whole place, 10 k
Installed lighting
Repaired the stage lights, 2k
Architectural and engineer feasibility studies $20k
Stairwell repairs and added a second set of stairs $5k
Built a loyal following
Created "Dancing Into Dreamland" fundraiser
and more!
But we still have a lot to do.  We have no elevator for the elderly and handicapped.  They cannot see Dreamland Ballroom.  We have no heat and air, which Dreamland needs to help better preserve her with temperature controls.
It is time for FOD to reinvent itself.  We have accomplished much, and now we need to change our focus to something new.  The old ways still matter but 2015 is going to be about working smarter, not harder.
Kerry McCoy is founder and president of FlagandBanner.com and owner of Taborian Hall where Dreamland resides. She is also publisher of Brave Magazine. If you would like to interview Kerry or have her speak at your event contact tammie@flagandbanner.com. 
Flag and Banner
Home
Oct
29
How Brave Magazine Came to Be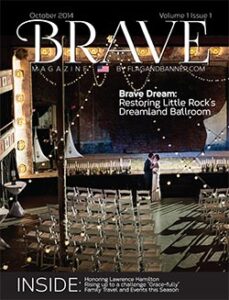 I often say, Arkansas Flag and Banner is my first born. Then I had 4 real children. Today, at 60 years old, I gave birth to my 6th pseudo child, BRAVE Magazine.  When passing out my beautiful, bi-annual, glossy periodical at restaurants and lobbies, I feel just like a proud momma. Can you tell by all the adjectives!?!
The idea of our own magazine came earlier in the year.  Like all good business owners, I am not thinking about today but the future.  What is AFB's future position in the flag industry? Since my purchase of the internet name flagandbanner.com in 1995, I have been focused primarily on internet sales. With internet retail being almost 20 years old, it is time to think of something new. IKR!
I started Arkansas Flag and Banner in 1975 with a small yellow page ad and door to door sales.  When gas prices exploded, I begin to invest what was once my gas allowance into yellow page advertising in the surrounding states.  Soon Ma Bell (aka southwestern bell) was deregulated and with long distance calling now affordable, I moved to telemarketing. With the increased sales I was able to hire outside salespeople and pursue tradeshows.  Next came the revolution of data collection and targeted mail- marketing campaigns ensued.  When I heard of the about the internet in 1995 I quickly changed my focus to internet retail.  So what is the next hook for Arkansas FlagandBanner.com.
Opening the mail one evening, it hit me: a magazine about us and our customers.  Over the past 40 years I have heard a lot of great stories from customers and employees.  Each week, the employees of AFB and I gather for a 7 am, Monday Morning Meeting. Often the general talk will bring up a story from the previous work week.  We've discussed sharing these stories through blogs, Facebook, and then it came to us, why not a small magazine?  It rang true.
That night an employee dreamt the magazine's name was BRAVE and boom the concept was born.
We all have a story to tell. We all start lives brave.  Brave to be born, to take our first steps, to go school for the first time. Being brave happens at all ages and can be on any level.  When I passed out my first edition of Brave Magazine at Woodland Heights Retirement Center, where my 91 year old mother resides, the ladies challenged my concepts the elderly often do. They demanded, "I am not brave." I disagreed, and asked "Weren't you scared to move here to Woodland Heights? And suddenly they all felt Brave.
Most of us think about Brave as a word used to describe someone facing great danger or challenge; brave to go to war, to run into a burning building, to serve and protect.  But there are all kinds of brave: brave to face a debilitating illness, or accept death.  And then there's life changing brave; brave enough to change jobs, start your own business, move, get divorced, or even change yourself.  Well you get the idea.  This magazine is about being Brave in Life.
So here we are, months later, with a 32 page magazine full of hard work, excitement, creativity, challenges and yes, our own Bravery.  Making this magazine and working with my great staff at AFB has re-energized me in my career. Â I look forward to work again, which can only be good for my employees and customers.  Can't wait for Edition 2 out in Spring 2015!  It is already in the works and I am jazzed about its content! You're gonna love it! So check out the Brave Magazine website at www.bravemagazine.com and share your brave story with us!
Kerry McCoy is founder and president of FlagandBanner.com and owner of Taborian Hall where Dreamland resides. She is also publisher of Brave Magazine. If you would like to interview Kerry or have her speak at your event contact tammie@flagandbanner.com. 
Flag and Banner
Home
Sep
30
Filed Under my business, personal | Comments Off on Literacy in the U.S. – Continued Blog Series
Continuation of literacy in the U.S. Series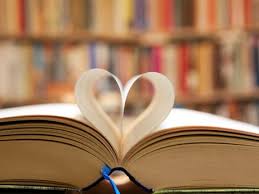 Last week I spoke about literacy in the U. S. and how I too had difficulties reading as a youth. It wasn't until I was an adult that I discovered that I had dyslexia. That however has not stopped me from finding joy and fulfillment in reading as I have gotten older.
To help others to improve literacy in the U.S. I thought I would offer a list of books even I, with dyslexia enjoy reading. (It is after all hard to enjoy something you struggle at sometimes.)
Here are more books I recommend for anyone from business people to children to the average Joe.
Professionally:
Lee Iacocca (I find biographies inspiring.  They are just ordinary people who did extraordinary things.  Make me feel like I could do that too)
The E-Myth (may be the most influential book I ever read in my career.  If you own your own business you need to read this book)
Throughput (helped me understand the work flow of my business and adjust our company business procedures)
Monday Morning Leadership: 8 Mentoring Sessions You Can't Afford to Miss by David Cottrell (my employee Kirk gave me this. It changed the way I manage my employees. It is a very quick read and simple tools for managing people and building a team environment.)
For Fun: (I love historical fiction, you may need to be a southerner to like the below books)
Lonesome Dove
Eyes are watching God
Gone With the Wind
Children's Books:
Pong and Diingy (read this in the car on the way to the beach.  Family was laughing out loud.  Best road trip ever.)
Wizard of Oz (it is different from the movie.)
White Fang
And really any of my children's middle school reading requirement books. They are surprisingly educational and interesting.
Only one of my 4 children was afflicted with this learning disability but like me he makes up for it in so many other great ways.  Everybody is good at something.
(Literacy in the U.S. is improving. In 1993, the US Central Intelligence Agency's World Factbook published that the United States had a 97.9% literacy rate for persons age 15 and over having completed 5 or more years of schooling, and 99.99% in 2008. These are great improvements and may have something to do with social media and texting. It has been estimated that areas in the United States with higher immigrant populations have the lowest literacy rates in the country.)
Kerry McCoy is founder and president of FlagandBanner.com and owner of Taborian Hall where Dreamland resides. She is also publisher of Brave Magazine. If you would like to interview Kerry or have her speak at your event contact tammie@flagandbanner.com. 
Flag and Banner
Home
Sep
22
Surprising information about literacy in the United States
Who knew that 14% of Americans cannot read, and 49% read on an 8th grade level? Another 14% have dyslexia. These are surprising numbers about literacy in the United States. I wish I'd known that when I was in school. Maybe I wouldn't have been so down on myself.
Each school year, I vowed to work hard, not get behind, pay attention, and make B's and C's. Not even A's would have satisfied me. But alas, by the second week I was already behind in every class that required text book reading.
I felt obligated to try to go to college because everyone else was going. Man, was I nervous! It goes without saying that one semester was all I could manage before I accepted that I was not college material. To redeem myself, I later tried and successfully completed a one-year vo-tech program in fashion merchandising. It did wonders for my self-confidence.
Having children has lots of benefits, but here is one I never would have guessed: every night I read to my children, and as they grew, so did the reading level of the books I read to them. I learned to slow down, read the punctuation, and practice, practice, practice simple reading. Pretty soon I was reading my own books for pleasure.
I am not a big proponent of naming and categorizing every personality trait we humans have; OCD, ADHD, ADD, and so on. But since my days in school during the 1960's and 70's, they have given my poor reading skills a name, and that kind of makes me feel better. I am dyslexic and no longer ashamed to admit that I am not a great reader.
Despite that, 'there are still some books that enriched me personally and professionally, educated me, or were just plain fun to read:
Self-help:
Passages by Gail Sheehy (I read this in my early 20's and it helped me understand myself.)
How to Win Friends and Influence People by Dale Carnegie (This book helped me make the leap from student to professional.)
Dress for Success by John T. Molloy (My brother gave me this when he saw that I was still dressing like a hippie.)
The Game of Life by Florence Scovel Shinn (My mother gave me this to get me through some hard times, when I needed help overcoming my negative life and thoughts.)
Children and literacy in the United States: Studies have shown that children who read significantly below grade level by third-grade continue to struggle and face a higher likelihood of dropping out of school. My next blog post will list some great children's books. These are such a fun read that kids having difficulties might enjoy reading for fun instead of feeling it is a chore they aren't very good at, like I did as a child.
See Kerry's next blog post for more on literacy in the United States (Monday, Sept. 29. 2014) for more of her reading lists including professional interest books, children's books, fiction and more.
Kerry McCoy is founder and president of FlagandBanner.com and owner of Taborian Hall where Dreamland resides. She is also publisher of Brave Magazine. If you would like to interview Kerry or have her speak at your event contact tammie@flagandbanner.com. 
Flag and Banner
Home
Aug
16

Hello Friends of Dreamland,

Its Dancing Into Dreamland's 5th year, and it has developed quite a following.  Ticket Sales have been brisk, only a few front row tables left. Wow!

Every year the dancers blow me away and this year is no exception.  We have some returning favorites and have added an aerial silk dance, yep, just like Cirque du Soleil.

If you have never been to Dancing Into Dreamland let me tell you how the evening goes:

During the first hour you find your table, grab a drink, some food, review the silent auction items and if you have time, shake a tail feather on the dance floor.
At 8:00 sharp the program begins. For one hour you see unbelievable dancers perform and compete.They are all ages, all genres, and all levels of expertise.
Around 9:00 the competition is over, the judges are sequestered for First Place decision making, the guests have 10 minutes to text in their favorite.
Awards are presented at 9:45.

So Save The Date November 7, Friday night, 7-10 pm.  Dancers, guests, and volunteers click here for details. Special thanks to all our Sponsors.

Our judges this year have been confirmed as well for Dancing into Dreamland 2014, they are the same great panel we had last year. Pictured above at last year's event left to right are Christen Burke Pitts, Sericia Cole and David Miller.

Our AETN documentary is coming along swimmingly. These guys are so professional. There is so much story to tell; Dreamland's events and music, Taborian Hall's businesses, Knights and Daughters of Tabors mission, history of Ninth Street, AFB's restoration in the 90's, and now the Friends of Dreamland's nonprofit efforts. I can't imagine how they are going to get it all into a 1-2 hour documentary. I can't wait to see the final product!

Be watching for a date and time this Spring, 2015. The event is open to the public and will include tours of Dreamland, AETN documentary premier, photo booth, and dedication of more brick pavers. So get involved and buy a brick today.

We now have our emcee's for the event! Professor Clea Hupp and Alice 107.7's Pool Boy will be our emcee's for the night. We couldn't have found a better team.

Buy a brick today and have it dedicated at our Friend Raising event in the Spring of 2015. We will have our documentary Premier and brick dedication all at the same time. Don't miss it!

Sponsors of DID 2014 are:

Business Sponsorships:
Landers Fiat
Stella Boyle Smith Trust
Mainstream Technologies
Magan Holcomb Partners
Aristotle Internet
Daniel Electric
Arkansas Panorama

Special Thanks to individuals:
Richard Davis
Sara and Ed Krouse
Ann and Grady McCoy
Mrs. And Dr. Keller
Mr. Wayne Ball
Flag and Banner
Home