---
First they came for the Socialists, and I did not speak out—
Because I was not a Socialist.
Then they came for the Trade Unionists, and I did not speak out—
Because I was not a Trade Unionist.
Then they came for the Jews, and I did not speak out—
Because I was not a Jew.
Then they came for me—and there was no one left to speak for me.
 Pastor Martin Niemoller 1892-1984 (concentration camp prisoner WWII)
---
Is it time to take down the Statue of Liberty? In 2016 are we no longer the land of the free and the home of the brave? But instead the land of the fearful and the home of the afraid?
Since time began, people have used a variety of religions and scriptures to validated their bad behavior.  Hitler was an atheist and a fear monger. And yet he motivated a whole nation of professed Christians with propaganda and fear. Are Americans destined to be that part of history that repeats itself? I don't want to be remembered for repeating that part of history.
Judge not lest ye be judged. American's rape, rob, shoot, and bomb ourselves more than any outsider ever thought about.
There are lots of speculation about why this happens; lack of church in the schools, abandonment of dinner time with families, too many after school lock key children, over population, etc. I am a simple person and can't begin to know the answer to such a complex social and criminal issue. I reconcile the problem with the knowledge that humans are flawed. You might simplify it even more and by thinking "Boys will be boys". To that I respond "Women will be women". Therefore, my arms are open to all that suffer and are oppressed.
I vote in 2016 to leave Lady Liberty standing tall and bright, a beacon for those to find their way to our shores, our land of opportunity that welcomed my ancestors, lest we fall into the lament of Pastor Martin Niemoller.
Flag and Banner
Home
What does ISIS Want?
ISIS is not getting their message out.  What are their demands?  What is their objective? Does anyone know? If you poll your friends and neighbors you may hear, "to kill Westerners, or to kill Christians, or to kill Americans."  But the fact is ISIS is an equal opportunity terrorist group.  They attack Europeans, Africans, Russians, Muslims, Christians, Jews, etc.
The mainstream media seems to relish talking about religion and detailing the pain and suffering of those killed.  This type of "Shock Jock" reporting only inflates fear and panic in American citizens. It also reeks of Nazi Propaganda where the amoral Christians ignorantly marched Jews to their deaths. In the words of Dietrich Bonhoeffer, a German pastor, theologian, and martyr during WWII, "The moral right and pious are the sworn enemies of Christianity."
ISIS's killings and threats are symptoms of the problem.  But what is the problem? What does ISIS want? What is so compelling about their message that it inspires martyrdom? The first step to solving any problem is to identify it, then you can look for a solution. On PBS News Hour I learned ISIS's funding comes from the sale of oil to all of us (they are rich), and their secondary funding comes from kidnapping and ransom.  But I still don't know their objective.
We, the people, deserve our government and media to be accurate information sources. Religious posturing by our politicians, sensationalism by our media, and lack of transparency by our government is a threat to our freedom.
We live in the information age, yet we are uninformed. Tell us the problem so we the people can think together for a solution.  Don't put a ring in our nose, so you can jerk our heads this way and that through sensationalized reporting and fear mongering speeches.
We have not forgotten the war in Iraq, that was reported and fueled by the corporations of America.
In an effort to be transparent I must confess, wars are generally good for the flag business.  I am also a mother of 4 and a grandmother of 2, and I pray for them a world of love and peace for all.
Kerry McCoy is founder and president of FlagandBanner.com and publisher of Brave Magazine.
McCoy has been in the flag business for more than 40 years. If you would like Kerry McCoy for an interview or to speak at your event, please contact tammie@flagandbanner.com with details. 
Flag and Banner
Home
Kerry talks with radio host about Confederate Flags, Rainbow Flags, censorship, the emotions of flags and about being in business for 40 years and how it has changed over the years.
Flag and Banner
Home
By Kerry McCoy
Publisher
In order to expand your business, you must learn to delegate. It sounds easy enough, but most people have a hard time telling others what to do.
In the 80's, when my daughter was young, I ran Arkansas' Flag and Banner out of my home. When you are an entrepreneur working from home, your list of tasks and distractions are huge. You spend your day trying to balance domestic chores with income producing work. Most of the time, the chores win. It is easy to become scattered and, by day's end, be exhausted having accomplished little.
Recognizing this production tug-of war, I decided to do a week-long time study. I broke my chart down into 15 minute increments and I kept the entries very brief. My categories included house cleaning, childcare, personal, selling, clerical, shipping and errands. What an eye opener to find I spent most of my day on unskilled tasks that did not earn any income. I was buried in busy work – not at all what I would have thought. My next challenge was to prioritize and decide what warranted my attention and time and what I could delegate to someone else. As a result, I hired a housekeeper. This took trust, faith in humanity and a little looking the other way (because no one cleans your home the way you do).
Next, I hired a receptionist to answer the phone while I went out selling. My sales went up. I hired clerical help, and my receivables turned around faster, which puts money in the bank. None of this came without angst about expenses, but with every hire, my productivity increased and I was able to cover the additional salaries and increase my income as well.
When my family grew to four children, I delegated grocery shoping and help with homework to housekeepers and tutors. This created more time for me to focus my attention on the work tasks that only I, the owner, could do. As a by-product, it created the quality time with my family that everyone is always preaching about.
Delegating did not come easily to me. I would lay awake nights worrying how I was going to tell my employee they needed to wash their hair before coming to work. Since AFB's inception in 1975, my job description has morphed many times. Learning to be the interviewer and not the interviewee is scary. Learning to let go is not easy. I still remember the first time I hired a salesperson and heard her answer the phone. I had to sit on my hands and let her learn, the same way you sit on your hands when your children first learn to empty the dishwasher.
Moving from salesperson to boss of 25 people is exhilarating, hard, scary, fun, challenging and rewarding. I haven't sold flags for over ten years. I spend most of my days managing employees and improving processes. One of my strengths is recognizing an employee's strong suit and placing them in a position at AFB where they will be successful. Who would have thought?
So, if you start too many emails with "I am sorry I am just now getting back to you but I have been sooooo busy," it may be time for you to GROW and learn to delegate.
This article was originally published in Brave Magazine Fall/Winter 2015 Edition. 
Flag and Banner
Home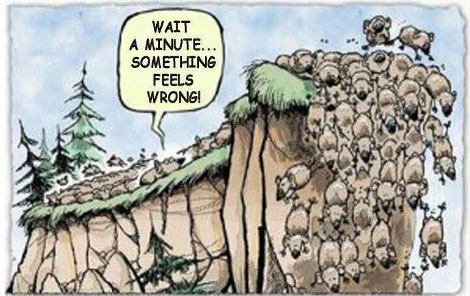 I am always amazed at the sheep-like mentality of humans. I first heard the word propaganda when I was about 12. It was being used in conjunction with WWII. I was aghast, and I asked my big sister, how can you get a whole nation of people to commit genocide against each other? The answer: propaganda, a fascinating word and concept. To think, humans are such sheep that we take whatever is told to us at face value without using our own reasoning powers.
One of the keys to my success is my ability to reason. I have learned to keep my emotions in check when making business decisions. That is why I am profoundly confused about all the Confederate flag propaganda. How do the sheep of America think the world news outlets latched onto this Confederate flag issue? Do you think World News Tonight, CNN and others just got together and decide to NOT talk about the gun that killed those churchgoers and to talk about the flag instead? Really? Are Americans so yoked by the news media that they will follow any lipstick-on-a-pig story?
Think America, how did the Confederate flag frenzy get started? Who has the power to feed all the media outlets in one day and have their story heard? Who doesn't want to talk about the real issue, gun control? Who cares more about protecting their gun sales than healing race relations in America? Please people, learn to think for yourselves. Our country depends on Americans making informed decisions about important issues. The selling of Confederate flags is not an important issue. It is a coup for the media, a hot button, propaganda and a waste of good energy that could be put to making positive change in America.
Stop being sheep; they will walk off a cliff.
Flag and Banner
Home
Flag and Banner
Home
Hello, I am Kerry McCoy
I want to thank the NAACP and Julius for coming out and exercising their First Amendment rights, just like I am. 40 years ago, I started my business on $400 and have lived the American dream. Today I continue to live that dream by selling flags and other patriotic items. Due to this morning's Supreme Court ruling, I feel sure the gay pride flag will take the forefront in our sales. Such is the flag business.
Flag and Banner
Home
The Power of Mass Media's Influence on Confederate Battle Flag Debate
The power of media to ignite the masses always amazes me.  All of this attention focused on the Confederate flag has had a reverse reaction. Rather than stopping sales, demand has skyrocketed. I have probably sold more Confederate flags in the last week than I have in the last 40 years.
Many of the buyers are not from the South and don't even care about the flag itself. They're just caught up on the idea that it might become obsolete, so they're buying one to put in the closet, only to be discovered 30 years from now by their grandchildren.  As Carl Jung said, "What you resist, persists."
The murderer that started this debate was holding a gun and brandishing the Confederate battle flag.  Aren't we focusing on the wrong thing in this picture?  The flag did not kill anyone. Do I wish the white supremacist hadn't adopted the confederate battle flag?  Yes, because then I could still pretend to be a teenaged rebel.  Do I wish the Tea Party hadn't adopted the "don't tread on me" Gadsden flag?  Yes, because then I could still fly it for fun without looking like I was supporting a cause.
But all of the above has happened.   Pick another Confederate flag to show your heritage.  Check out the Bonnie Blue, the Republic of West Florida flag that once served as a Confederate banner.  In Margaret Mitchell's book, Gone with the Wind, Rhett Butler named his daughter Bonnie after the flag. It is a lovely flag, and maybe it's time it got its due.
We don't want to forget history.  It is through our remembrance of history that we ensure we don't repeat the same mistakes.  More soldiers died during the Civil War than during the Vietnam War. To learn about the black soldiers who fought with the Confederacy, visit my sister building down the street, the Mosaic Templar Cultural Center at 9th and Broadway in Little Rock, Arkansas.
Kerry McCoy is founder and president of FlagandBanner.comand publisher of Brave Magazine. Kerry has been in the flag business for more than 40 years. If you would like Kerry for an interview or to speak at your event, please contact tammie@flagandbanner.com with details. 
Flag and Banner
Home
The Confederate Flag
Here is a link to all of the stories that Kerry McCoy, owner and president of Arkansas' FlagandBanner.com has done in the last few days about the current Confederate Flag Controversy gripping America.
Flag and Banner
Home
The Confederate Flag
From the moment humans had consciousness of group identity,  people have been waving some type of flag to represent their clan, allegiance, and/or message.
In the last 40 years, since the inception of my business, I have seen much controversy over flags.  I get calls and emails from people that won't patronize Flag and Banner because I sell the Rainbow flag, which has been adopted by the Gay Pride movement, or the Gadsden Flag "Don't Tread on Me", which has been adopted by the Tea Party movement and so on.  Interestingly, none of these flags originated for any of these purposes.  It now seems the haters of the world have adopted the Confederate Battle Flag.
We have all seen the picture of the murderer of 9 innocent people in South Carolina's AME Church holding a gun and the Confederate Battle flag , as if to validate his actions and somehow show solidarity to the Old South.   Perhaps he should have brushed up on his history.  The honorable, valiant, southern gentlemen of the Confederacy were gallant men (black and white) fighting for their families and homes, maybe in error, but never in doubt.  Slaughtering innocent people because of the color of their skin was not their mission.
Wisdom teaches the injustices of the world cannot be understood and that you can't change others.  So if the haters of the world insist on adopting the Confederate Battle flag,  let them have it.  There are 4 other Confederate Flags we can fly in honor and remembrance of our nation's history.  South Carolina's Capitol could replace the battle flag with the Bonnie Blue.  What a great name, what a great flag!   And talk about getting attention….  visitors to the capitol would be Googling  that flag and reading its history every day.  Now that is good publicity.
Kerry McCoy is founder and president of FlagandBanner.com and publisher of Brave Magazine. Kerry has been in the flag business for more than 40 years. If you would like Kerry for an interview or to speak at your event, please contact tammie@flagandbanner.com with details. 
Flag and Banner
Home