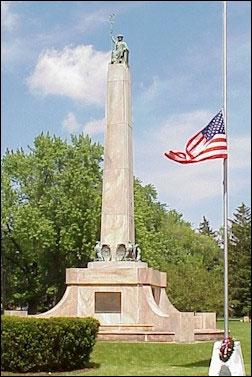 It is always permissible and desirable to fly the American flag but displaying it every day is particularly appropriate to show support for our troops when the nation is at war.
While it is considered inappropriate to fly the American flag in inclement weather, it is permissible to fly the flag at night if there is enough light in the area so that the flag can be plainly seen.
There is no special "war time" protocol for displaying the American flag during periods of military conflict, although there are situations that arise that generate questions.
The flag should normally be at full staff. It should be half-staffed for a designated half-staff holiday*, or by proclamation of the President. The Governor of a State, territory or possession of the United States also may
proclaim that the national flag be flown at half-staff in the event of the death of a present or former official of that State, territory or possession as a mark of respect to their memory.
When a US flag cannot be lowered because it is mounted either on an indoor flag set or on a small pole made for porch or window display, tying a black bow above a full- staffed flag properly indicates mourning.
Use of a yellow ribbon has been an unofficial American tradition for over 100 years. Displaying a yellow ribbon indicates thoughts and prayers for the safe return of American forces on duty away from home. No official
guidelines for its display exist but yellow ribbons are often tied to trees and light poles or displayed in miniature on the left lapel of jackets or other clothing. When displayed with an American flag the preferred position of the yellow ribbon is tied in a bow above a full-staffed flag.
Note that displaying a black or yellow ribbon above the American flag is not considered a breech of Flag Etiquette because the ribbon does not represent another country or organization.
*Designated half-staff holidays are Memorial Day (half-staff until noon), Peace Officers Memorial Day (May 15), Korean War Veterans Day (July 27th), Patriot Day (Sept.11) and Pearl Harbor Remembrance Day (Dec. 7th).
Information courtesy of the Flag Research Center, Winchester, MA. and the National Flag Foundation, Pittsburgh, PA. For more detailed information regarding Flag Etiquette contact the National Flag Foundation at 800-615-1776.