Teachable moments: Wisdom is non-transferrable
I rarely watched TV as a young adult. That is not to say the TV wasn't on; I just wasn't watching. Part of the evolution of life is becoming a TV watcher, especially a watcher of news, history and biographies (hence the birth of Brave Magazine). These lead us to teachable moments throughout our lives.
The other night, I was watching CBS reporter Serena Altschul's  Interview with Christopher Cross, the 1980's pop singer and tenor who won five Grammy Awards and an Oscar for writing and singing the theme song to the movie Arthur with Dudley Moore and Liza Minnelli.  Like so many people, I thought he was dead (an urban legend) and when I found out he wasn't, I was thrilled and wanted to know where he had been.  It turns out, nowhere – he is still making music.
In the interview, he reflected on his musical career and something his father used to say that I will never forget.  It's something we all ponder as we grow and something I've never heard put so aptly.  Christopher Cross's dad said, "One of the great tragedies of life is that experience is non-transferrable." BOOM! What a teachable moment for anyone watching!
Nobody, and I mean nobody of any age, likes advice.  We all want to learn on our own.  In the last two years, I have heard this over and over.  My children call me to lament about their heartaches and disappointments. I mistakenly thought they wanted advice until one day, my daughter hung up on me and I didn't understand why.  Then, two months later, my oldest son said, "Mom! I don't want your advice. I just want to you to listen." Cue a parent's teachable moments from interacting with their children.
I took his advice and now I see the repercussions everywhere.  Since this epiphany, my 91-year-old mother and I have stopped arguing.  When she gripes about her hardships and struggles, I just listen, that's all!  How liberating!  And this one will blow you away, LISTEN UP! The better salespeople are listeners, not talkers. Did you hear me?!? This advice I know to be true.  Oops, a relapse.
Now don't confuse advice with learning.  Everybody likes to learn.  To stop learning is to stop living and teachable moments are everywhere in life. I hired my first employee when I was 28.  She was a coworker at my evening waitress job (I had to supplement my income while starting AFB). She was slightly younger than I and had been in a terrible car wreck and a coma, and was learning to walk and talk again. A couple of times a week, I would pick her up and bring her to my home/office to answer the phone while I ran errands.  Every time, I would have to retrain her, since she could not remember diddly-squat (when I see her now she barely even remembers that year at all).  But I became a teacher, and I have been teaching employees ever since.
School teaches you science, history, math, reading, writing, etc, but I can teach you how to get to work on time, dress appropriately, use a telephone, cover your food in the microwave, wipe up your coffee spills, comb your hair and, of course, the business of selling flags. There is really no better training ground for a young person starting their career than a small, progressive, woman-owned company.
My employee Arwen (yes, she is named after a Tolkien book character) who has come up through the ranks of AFB, thinks minimum wage should be renamed to "training wage" or "starting wage."  I like that idea and have more than once jokingly told my newbies about her recommendation. I added my own observation that it's all backwards; they ought to be paying me for what I am teaching them, for aren't I a teacher, too? They don't find that funny, but one day they will and will probably plagiarize me for their own middle-aged monologue.
Sometimes my teaching spills over into advice like lectures on how to make good choices, and how we are all Brave, and my favorite way to piss off a Millennial is to say, "Buy a clue, duh."  But I forgive my arrogance of wisdom, because I, too, am a work in progress.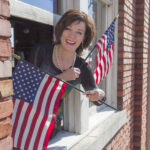 Kerry McCoy is founder and president of FlagandBanner.com and owner of historic Taborian Hall where the famous Dreamland Ballroom resides. She is also publisher of Brave Magazine. If you would like to interview Kerry or have her speak at your event contact tammie@flagandbanner.com.