2012 has been a rough year for Razorback fans and the retailers who sell Razorback gear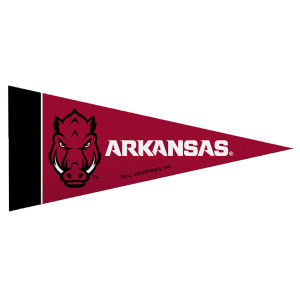 This has been a particularly hard year for Razorback fans.  I haven't agreed with many of Jeff Long's decisions as athletic director, starting with NOT hiring Gus Malzahn back in 2008. But when Bobby Petrino turned out to be one of the best Razorback football coaches of my life time, I thought okay, Long may know what he's doing.  All too soon, my suspicions that Jeff Long had poor decision making skills came to fruition.
First he fired Patrino for his off duty indiscretions, next he cried on national TV, and then he hired John Smith to coach our Heisman trophy quarterback, Tyler Wilson.  If I was Tyler's mother, I would have yanked my son out of that school.  Now, he has hired the Wisconsin defensive coach Bret Bielema.  What is wrong with Jeff Long!
Hiring Bielema is like hiring Ken Hatfield or Houston Nutt again. Bielema can't score in the RED ZONE. Jeeeeezzzz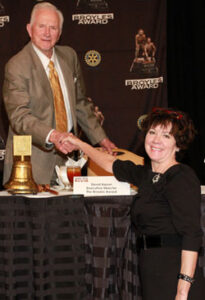 Though we Razorback fans remember, athletic director, Frank Broyles, was no walk in the park either. He too always had a lot of controversy swirling around him, but he's turned out to be an Arkansas icon.
One of my favorite events of the year is the Frank Broyles Award. Long-time friend, local celeb, and founder David Bazzel, has started a legacy for himself and our state with his annual assistant coach award.  For 15 years Rotary Club 99, which I am a member, has been the main sponsor.  For three years, I have had the privilege to usher at this great event.
I met a lot of the football coaches I watch on TV every weekend.  This year the Frank Broyles Award went to a good catholic boy, Bob Diaco of Notre Dame. A list of impressive assistant coaches have been given this prestigious award, Gus Malzahn won it last year. You can read more at the official Broyles Award Website.
Maybe one day, I will usher at an award ceremony for Jeff Long and hear the good things he has done for Arkansas. But right now as a retailer, Arkansas Flag and Banner's sale of Razorback gift items is nothing to brag about. Razorback fans just aren't buying.  I wonder if Jeff Long thinks about the businesses that support the Razorbacks? Or how his decisions affect the economy of not just the U of A but of our whole state?  I vote to upgrade ASU to 7A status, so retailers like Flagandbanner.com can have another school to support while Jeff Long flounders. Maybe he will find his footing or get fired. BTW we do carry Arkansas State Red Wolves memorabilia as well as UALR Trojans and UCA Bears, though not nearly as many products as we sell Razorback. Maybe that will change.