This past week I flew "across the pond" (over the Atlantic) to France. The trip came about because of my granddaughter's insatiable and ferocious capacity to learn.
Our Own Field-Trip
My granddaughter, Evelyn, is 12 years old and this year she chose French as her elective in school. When she heard about a summer trip her school was taking to France, she asked me to come listen, learn, and possibly accompany her on said trip.
At the school meeting, I learned it would be a 10 day, 4 country jaunt, chaperoning 35 teenagers during the hot summer month of June, which also happens to be Flag Season – my busy time at work. Listening to the grueling itinerary of hot planes, buses and trains with a slew of stinky teenagers, I decided I would rather donate a kidney than go. When I told her so, she looked so disappointed that I began to hatch a new plan.
Paris
We decided to go to Paris during her Spring Break. This was not to be a relaxing vacation but more of an educational one. We saw Notre Dame, The Louvre, Versailles, and the quaint artist community of Montmartre, a mountain where a priest was famously beheaded (hence the name "martyr-mountain") and home of the popular Soccer Man YouTube gymnast who performs outside the Sacré Coeur Basilica.
We walked 'til our legs almost fell off and ate quality foods in sidewalk cafes while drinking delicious café-au-laits or sipping superb local wines. Bread, their original fast-food, w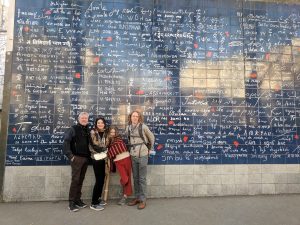 as sold everywhere!
When I asked Evelyn if Paris was how she imagined, she said a little disappointingly, "No, everyone speaks English. And I saw a McDonalds and The Gap clothing store." It was true.
With each of my blogs, I like to share with my readers something and, in this one, it would be; you don't need to speak French to visit Paris and, despite what you may have heard, I found the French people to be polite and extremely courteous to Americans.
Avignon and the French Riviera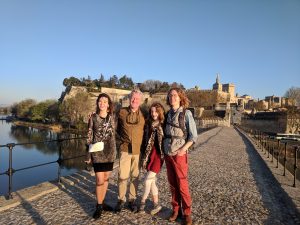 Mid-week we took a train to Avignon. During the 3 hour train ride we saw a picturesque country side full of small villages, castles, and vineyards, but it did not compare to the walled off town and island of Avignon we were about to see. This medieval town still had its rampart and draw bridge! It served as home of the original Papacy and the Pope's Palace from 1309-1377. Seven Popes resided there before moving to Rome and the town didn't become part of France until the French Revolution.
Looking at the 700-year old cobble stone streets, bridges and buildings, made me wonder what America would be like if it had not been built with steel and concrete. Steel, though a great invention on many accounts and a must for skyscrapers (which France did not have many of), has a relatively short life expectancy. It does not feel sustainable. Walking the old french streets, I was acutely aware of how Americans have learned to live with the noise of constant reconstruction and repair.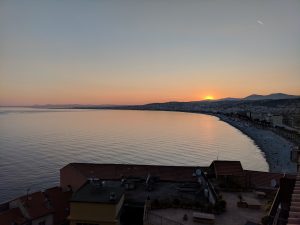 For the last night we rented a car and drove to Nice on the French Riviera. I cannot even describe how cold the Mediterranean Sea is, but we all took the plunge just to say we did.
Returning Home with New Eyes
It was nice coming home, although the first insult to our senses was the smell of fast food as we ascended the escalator at the Atlanta airport. Evelyn naively asked, "What is that horrible smell?" It broke my heart to say, "American food."
Europeans have figured out how to live in small, populated places while maintaining respect to each other and their surroundings. They are not loud in public, do not over-indulge in food or drink and they use courteous words with one another. I heard "merci" used in almost every sentence. Contrary to my belief, Parisian's did not don a lot of perfumes in public places, either. Again, respectful. But they did smoke in public.
This past week was mind-boggling for me, and I hope mind-expanding for Evelyn. In the words of Mark Twain, "Travel is fatal to prejudice, bigotry, and narrow-mindedness, and many of our people need it sorely on these accounts. Broad, wholesome, charitable views of men and things cannot be acquired by vegetating in one little corner of the earth all one's lifetime."