The CDC recommends not traveling unless you absolutely must; and if you must, be smart about it. Weighing these recommendations, I thought about my upcoming and necessary trip to Miami, Florida. Should I rent an RV and drive? With a pull-along bed, bath, and kitchen I could quarantine throughout the three day drive down. It seemed like a responsible way to travel.
As a young adult I did lots of camping, so an RV sounded easy. I called my friend at RV City and she made it happen, even giving me three travel trailer styles to choose from.
The day came for us to pick up and hook up our traveling home. After the tutorial from her staff, we gleefully took pictures before hopping into our new rig and waving goodbye. About 5 miles down the road, Grady began to complain that it swayed unbearably. He said there was no way he could drive and fight the sway for our upcoming 2000-mile trip.
We turned around to ask RV City about buying a sway bar, but not before a car pulled alongside us, honking its horn. A nice lady rolled her window down and yelled, "You have a hose dragging on the ground."
That was just the beginning.
On recommendation from Uncle Jess, our family's RV expert, we picked up the rig a day early to get to know it. We familiarized ourselves with all the buttons, hoses and how to maximize space with our belongings. Travel day came and we eagerly and cautiously started the truck and inched forward. We had not even gotten out of our driveway before we wrecked it. As we watched the sides and backend carefully, it never occurred to us to look up for a jutting, out-of-code overhang from the neighbor's garage. SCREECH … we heard the noise as it tried to rip the awning off the side of our brand-new RV.
Through much finagling, we removed the awning from the eave, surveyed the damage, and tried in vain to make repairs. Though the awning was no longer usable, the big rig was fine to drive. And so, with our chins up and tempers in check, we took off, again.
How did we do it before GPS?
Even though we had two smart phones mapping our route, we still managed to overshoot a connection near Memphis by 20 miles; I guess because we were listening to books, texting, and napping (not Grady, he was driving!). In today's world, it's so easy to do many things at once. Remember flip book maps from AAA? You had to pay attention, back then.
Somewhere, somehow, we found a lovely little Good Sam's park to stay the night. I was awed by Grady's ability to figure out how to hook-up all the hard stuff. And I literally gagged when he connected the sewer hose, turned to open the valve, and the sludge lurched forward.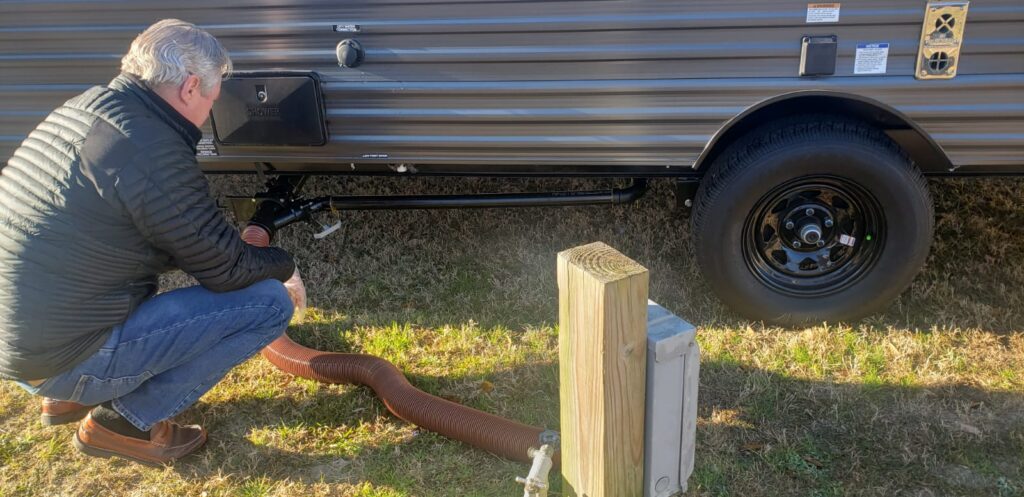 Buoyed by our first night's success, the next day we drove out, again; but not before leaving a stack of our Brave Magazines at the front office for travelers to pick up and enjoy a good read.
Seemed like everything was going to be okay and then it happened.
Mid-morning of our second travel day, as we pulled away from the gas station, we heard a big bang, then clang, then a metallic dragging noise. We pulled over quickly and jumped out to survey. Somehow, the sway bar we purchased back in Little Rock had gotten in a bind and completely broke away from the RV trailer hitch and was dragging on the ground. That is when we lost it.
Two balls and two half-inch steel plates were bent. How could we have done such a thing without knowing? We were clearly out of our comfort zone and realm of knowledge.
We called Uncle Jess again for reassurance and support.
Per Uncle Jess's advice, we found a Camper World just 30 miles away that was open on Sunday. We drove directly there and pulled in to consult the experts. Was it something we did? Did we buy a faulty hitch? Was it installed wrong? Was it safe to continue? Though I was keeping a brave front, once we got in the store, I had a back spasm that brought me to my knees and tears to my eyes.
I went back to the car to cry and recline, while Grady brought the man from the parts counter outside to survey the damage and give us advice. The parts manager assured us it was okay to travel on, with a warning to take it slow. So, we did…but not before seriously considering leaving the RV in Birmingham, Alabama and picking it up on the way back.
After another sleepover night just outside Jacksonville, Florida, we arrived in Miami late in the evening. This proved to be our last night in the RV. The next morning, I told Grady, "I don't care what the CDC recommends, this prima donna is about to have a nervous breakdown. Get me to a 4-star hotel and fast."