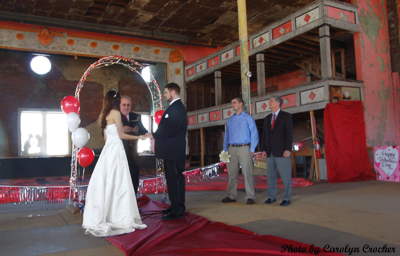 On November 12th, I wrote a little blog entry called "Married to My Employees." After yesterday, I need to change it to "Marrying My Employees." That's right… on Valentines Day, we had a wedding right here at Flag and Banner.
It all began during the Monday morning meeting, when our purchasing agent, Jeremy, informed us that he would need to take a half-day off on Valentines Day to marry Ashley, his partner and mother to his son. Hearing that they intended to get married at the Justice of the Peace, our accountant, Sandra, flatly rejected the idea, saying "The Justice of the Peace is for ending marriages and not starting them!" She then immediately got on the phone to her Baptist Preacher husband and before we knew it, we were planning a wedding on the fly.
It was decided that the Ceremony would take place in the Dreamland Ballroom and the reception would be held afterwards, downstairs in "Doc's Pool Hall." The women of Flag and Banner brought in arches, balloons, rose petals, banners (of course), a wedding cake, champagne, mints, chocolate strawbery fondue, more flowers and, of course, the Wedding Cake. As Ashley walked the red nylon runway, we all hummed "Here Comes the Bride" and there wasn't a dry eye in the house. Overcome with emotion, Ashley almost fainted while saying her vows.
After the ceremony, everyone moved downstairs to Doc's Pool Hall for the reception. The cake was cut and Champagne flowed. Meanwhile the men of Flag and Banner crept off to decorate the getaway car. As Jeremy and Ashley drove away, I couldn't help but smile. It was such a blessed day.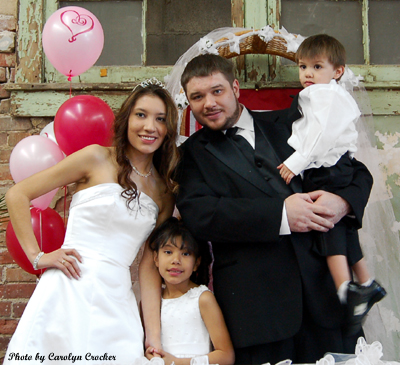 So if you are one of my customers that tried to call the office between 2 and 3 pm, central time on Valentines Day and got the voice mail, I apologize. I have been the Mother of the Bride before, but this is the first time I have ever been the Boss of the Groom. And it feels good. But just like being the mother of the bride, it is a little hard on the pocket book. Next time, if there is a next time, we will do it after 5 p.m.