I've long been a believer in the power of saying "Yes." So, that's what I did when my neighbor walked by my house on one beautiful, crisp morning and asked me if his son, Nick Shoulders, could perform on the steps of my big front porch.
How the Pieces Fell into Place
Sheltering in place has been rough for musicians; not just for their pocketbooks, but also for keeping their performance skills honed and their creative juices flowing. And so it was for Nick, a grown man who has been living on his own for years. Like so many, the COVID-19 pandemic not only forced Nick out of his job, but out of his apartment in New Orleans, LA. As I mentioned in an earlier blog, the neighborhood is full of grown children fleeing big cities and colleges to shelter in place in their parents' homes.
As with almost every time you say "Yes" to life, the pieces will begin to fall into place. Turns out, May is preservation month; a perfect theme for Nick's front porch performance and an opportunity for the historic Dreamland Ballroom to fulfill a community-minded goal. With fervor the Friends of Dreamland went to work creating a private event page to invite friends and family. They set up a donation table the night of the show and raised $300 which the board decided, in light of current event, to put to good use by donating the newly found monies to a local Black Lives Matter non-profit.
In addition, May is right in the heart of flag season and FlagandBanner.com had already scheduled a "how to decorate with bunting" video shoot at my home. So, coincidentally, the porch and its surroundings were heavily draped and adorned with red, white, and blue fabric. Along with looking like we had decorated for the party, the block also looked like there'd been an explosion in a flag factory.
The Night of the Show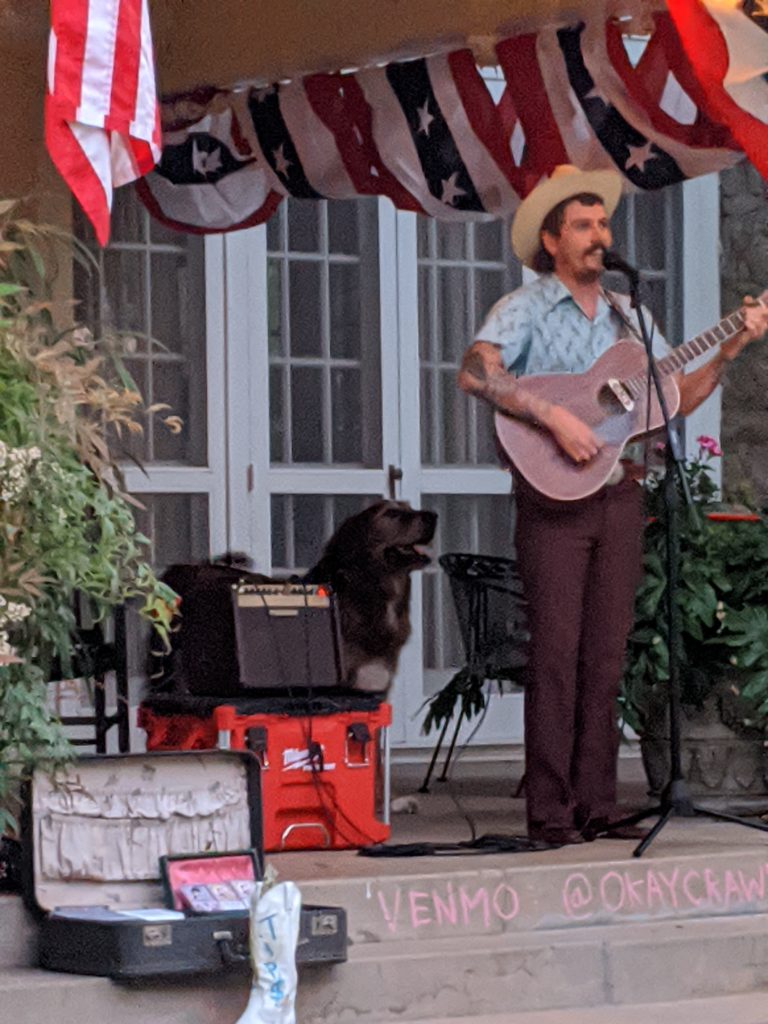 With weeks and weeks of rain in Arkansas, all us party-planners picked a Friday night date for Nick to perform, crossed our fingers, and prayed for clear skies. The evening could not have been lovelier. Son Matt distributed posters, set chairs up 6-ft apart, and managed the details.
Nick Shoulders started strumming, singing, whistling, and yodeling around 6:30 and promptly ended at 8:30, just before dark (my kind of party hours). This guy is all pro! Nick stood alone, in the open air, with just his guitar, microphone, and his 11 year old dog. He was great! And the crowd, though older and more subdued than he's used to, let him know their appreciation and love with clapping, money stuffed in his tip boot, and an occasional wolf-whistle. Of course, I did a little dancing.
The communal benefits of this evening were had by all. Nick told the audience he felt rusty and thanked us for coming. Dogs walked among us looking for pats and treats. And the neighbors felt blessed to be there.
Say "Yes"
A lot of books have been written on the power of "Yes." I wrote a blog in 2016 about how Shonda Rhimes, Gloria Steinman, Ann McCoy and I all thought about and said "Yes" to the opportunities in our lives.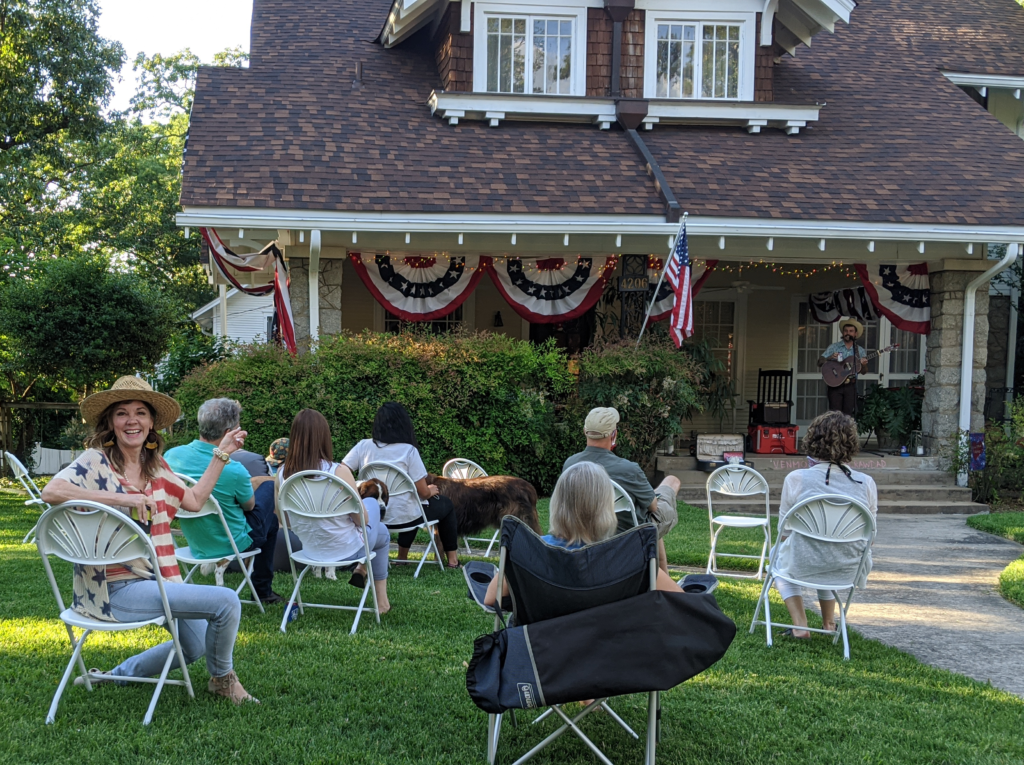 To the artist musician, Nick Shoulders, I say "Yes" to the big things awaiting him in all his creative endeavors.