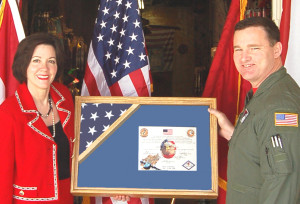 Today I met a man that made me proud to be an American, MSGT Jeff Vaughn. Jeff is a career Air National Gaurdsman. He has been activated 3 times (which is not enough by his standards) once in Dessert Storm and twice in our current Fight For Freedom. He just returned from a tour of duty in Afghanistan where his crew did humanitarian drops of supplies to soldiers and civilians on the ground.
Jeff is a shining example of why servicemen are called servicemen, because they serve! not just our country but everyone they come in contact with.
Today he served me by bringing me a flag I gave him to take on his plane during his missions, I thought it nice to have a little bit of home to go with him as he flew over enemy territory and boy did it go. This flag flew 25 combat missions in Afghanistan, Pakistan, Tajikistan, and Kyrgyzstan.
To show his gratitude he designed and built me an oak case with a glass front and framed that worldly flag with a certificate he created using logos and the crew's names and signatures.
He said he appreciated what we did, not just giving him a flag but promoting patriotism. I said I appreciated all his service and family sacrifice. That is when he said, "It's not a service that we do; it's a way of life".
I was humbled.
Posted by kerry