Friday afternoon I receive a text that simply said, "Scott's dead, heart attack." I repeated out loud, "Oh my God! Oh my God! Oh my God! Oh my God!" more times than I can remember. Still, it's inadequate. There are no words for such an occasion.
It was around 3 pm, the day after Thanksgiving, when Tammie responded to a knock on her front door. She opened it to find her father-in-law on the doorstep. He wanted personally to deliver the catastrophic news. Tammie's husband and high school sweet heart, Scott, was gone. While at work, Scott had begun to suffer a heart attack and drove himself to the hospital. There the doctors worked in vain to save him. He was only 46 years old.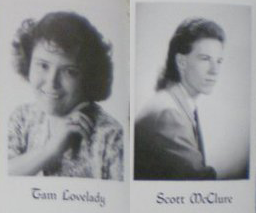 I immediately called her, my long time and loyal employee, Tammie, who answered on the first ring with heart wrenching sobs that I could almost feel in my own chest. I listened as she told me the details.
Tammie's grief is in a class of its own. She joins the elite group of widows who awoke to what they thought was a normal day. They saw their husbands off to work, only to hear, hours later, that he was gone from sight forever. I form a list in my head of Yoko Ono, Elizabeth Taylor and my mother's friend Royce Dunn.
I've heard that kind of shock and grief can send you to bed for a year. There is no time to prepare. For Scott the suffering was short. For Tammie and his family, I fear the suffering will be long. I can only speculate the mulling's over of such loss.
Somehow through all of this, Tammie has had the wherewithal to plan Scott's funeral and set up a GoFundMe to help with burial expenses.
As they played Garth Brooks "The Last Dance" at Scott's funeral, I began to say and pray in earnest, "Oh my God, please be with Tammie and her family."